A Strategy
The Department of Economics and Management has developed and sharpened its profile in the context of setting up and expanding the structures of the Karlsruhe Institute of Technology (KIT). KIT is the result of merging Universität Karlsruhe and the Helmholtz Association Research Centre. This will be explained in more detail under point B.

The Department follows a strategy of defining areas of focus. The idea of this is to support the concentration of means and resources and therefore create synergies during the time required in each case. The strategy aims to react to current situations and challenges now and in the future by defining further areas of focus.
B Profil
The Department has the method oriented education concept as the base for the study for many years, and is also equipped with suitable technology. The Department has made it a priority to make a significant contribution in an academic and practical sense towards the development, testing and application of theories, and methods for designing and optimising products and structures. Special consideration is given to the dynamics of technical, economic and social development with a focus on optimising the cost/benefit ratio (efficiency). At the same time observing the principles of sustainability and upholding responsibility towards the environment and society, across all activities and projects carried out by researchers, lecturers and staff.
As Figure 1 shows, methodical principles are being developed for the following topic areas in particular:
Innovation
Global value networks
Modelling, simulation & econometrics
IT for efficient business engineering
Coordination and collaboration
Decision-making
Measuring, evaluating and aggregating
The mechanism of design & behavioural economics
These areas also reflect the core competencies of the Department members in their institutes.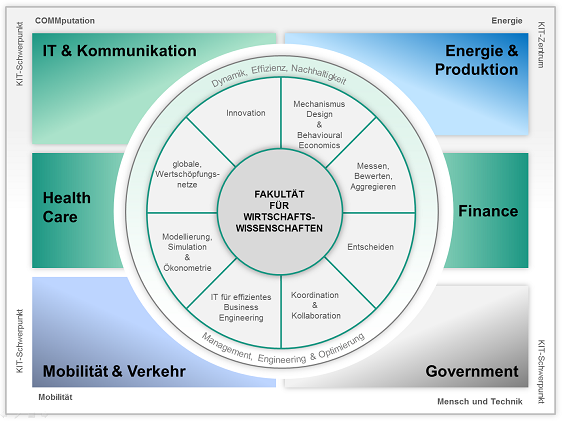 Figure 1:  Profile of the Department of Economics and Management at KIT
In addition to developing and testing methodical principles, they are applied using a problem-orientated approach in a variety of sectors:
IT & Communication
Energy and Production
Health Care
Finance
Mobility and Traffic
Government
In this way the Department works in close alignment with KIT's general focuses "COMMputation", "Man and Technology" and "Mobility", as well as with the KIT centre for "Energy".
The institutes and staff of the Department are involved in these KIT structures in a variety of ways, furthermore they cooperate with leading companies in the fields of economics and administration, and take on consultant roles to assist in policy-making. In this way they make a significant contribution to the success of the excellent research work carried out at KIT.

Because of this, the Department feels well equipped to face the key social challenges of the future following the three KIT pillars of "Education, Research and Innovation" by communicating the necessary knowledge and skills to the students, developing creative problem solutions for people and companies in the economy and society and helping them to implement these solutions successfully and innovatively, in close cooperation with industry and politics.
C Defining areas of focus
In a similar way to an orchestra, by cultivating a competitive profile the Department can offer the personal and technical skills and capacity that are needed to perform both traditional and modern "works" with extremely high quality standards. At the same time it is possible to integrate new team members and instruments at any time as well as to contribute towards embarking upon new projects.
In the face of current global developments of virtually all nations turning into service economies, the Department will spend the next few years concentrating on the Services focus. In the image above, the "modern work" for the  Department team is in particular the topic of "IT-based services in networked economies". These economies, such as IT & Communication, Energy, Health Care, Finance, Mobility and Traffic and Government for instance, are particularly driven by modern services that are available virtually everywhere at relatively low cost, at high speeds, individually or as a complex arrangement. In these situations the customer tends to become integrated into the value chain at a very early stage (prosumer), which requires a new communication culture between service customers and suppliers. All these peculiarities of the economies under focus result in areas of responsibility and targets in the Department's "orchestra work", which are shown in the following diagram: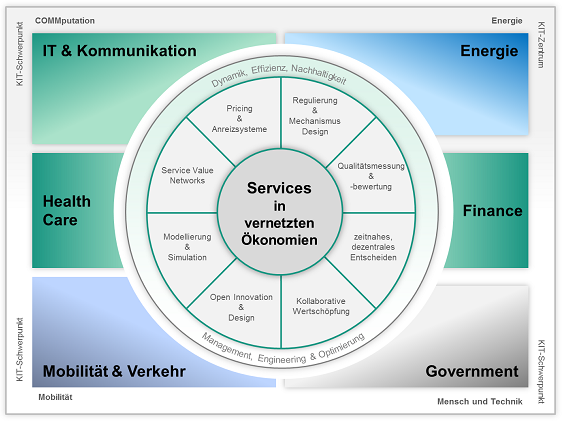 The Services theme has points of reference with the KIT areas of focus and KIT centres mentioned above, it is a theme of great interest in politics and the economy, and it is possible for many employees and institutes to help shape and support it in respect of its content. In line with the Department profile, its content and theme will be concentrated on the following aspects - whilst retaining other themes and structures:
Regulation & mechanism design
Quality measurement and evaluation
Real-time, decentralised decision-making
Collaborative added value
Open innovation & design
Modelling & simulation
Service value networks
Pricing & incentive systems.
With this, the Department - embedded in the excellent environment of KIT - creates the best conditions for students, lecturers and researchers in order to make valuable contributions relating to the key themes of societies in a globally networked world. In doing so, it aims to be able to attract interesting partners from industry and science for successful cooperation projects, as well as the best brains for study and research.

If you want to ask questions in more depth, please contact
General: Dean (Prof. Dr. Frank Schultmann)
Study: Deans of Studies (Prof. Dr. Kay Mitusch, Prof. Dr. Alexander Mädche)
Research: Vice Dean of Research (Prof. Dr. Stefan Nickel, Prof. Dr. Wolf Fichtner, Prof. Dr. Andreas Oberweis)
…and of course you can also contact all institutes and Faculty Department team members at any time.