Meet your fellow students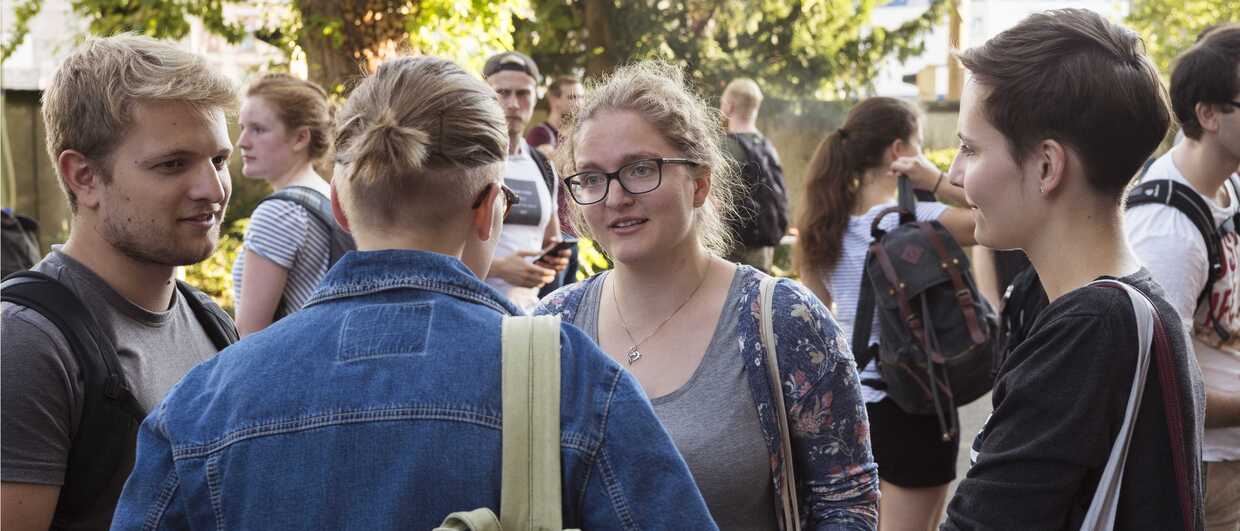 You are new in Karlsruhe and would like to connect with your fellow students? KIT students as well as other international exchange students can't wait to meet you!
Let us introduce you to…
… the ESN Buddy Program
In cooperation with ESN Karlsruhe, we assign a buddy for you that will help you make your university life at KIT easier! We aim to match you with a local student from the KIT-Department of Economics and Management to help you get started with your studies at KIT and life in Karlsruhe! Your buddy is your informal contact – and it is entirely up to you two how you shape your bond. And who knows – maybe one day your local buddy will be an incomer at your university!
You can register for the program of winter term 2022/23 here!
… the student Group ESN Karlsruhe
The members of the student group ESN Karlsruhe are dedicated to supporting students who participate in international exchange programs by organizing the "O-Phase", which is the orientation week for international exchange students at KIT, and by offering exciting and affordable parties, city trips and other great events to make sure you will experience an unforgettable time in Germany. Every Tuesday they organize a "Stammtisch" in changing locations in Karlsruhe, where you will be warmly welcomed. If you would like to share your language or learn a new one, also stop by their Language Café and don't forget to check out the many opportunities to become part of KIT's international community at [https://karlsruhe.esn-germany.de/incomer/].
… the "Wiwi-Fachschaft"
The Wiwi-Fachschaft is the student council at the Department of Economics and Management. As a team of about 50 students, they help you with study-related questions, sell old exams to use as an exercise, release the magazine Wi² each semester, and organize many fun events, such as the semester parties WiWiWi & WiWiSo. They also organize the general orientation days for all new Bachelor- and Master-students at our department, which are of course also open to international students (degree-seeking students are encouraged to attend). You can visit the Wiwi-Fachschaft during their consultation hours Mo-Fr 11.00-02:00 (during the semester break only on Wednesdays). [contact information]
… more opportunities for students at KIT
Numerous other extracurricular activities are offered on and off campus by a large variety of student groups and organizations as well as by the "Studierendenwerk Karlsruhe". We have collected some useful links that might be of interest to you:
*****
Please note that we can only provide an overview of a small selection of the many possibilities for students at KIT. If you would like to point out further recommendations interesting for international students at our department, please send us an email to International Relations ∂does-not-exist.wiwi kit edu - Thank you!